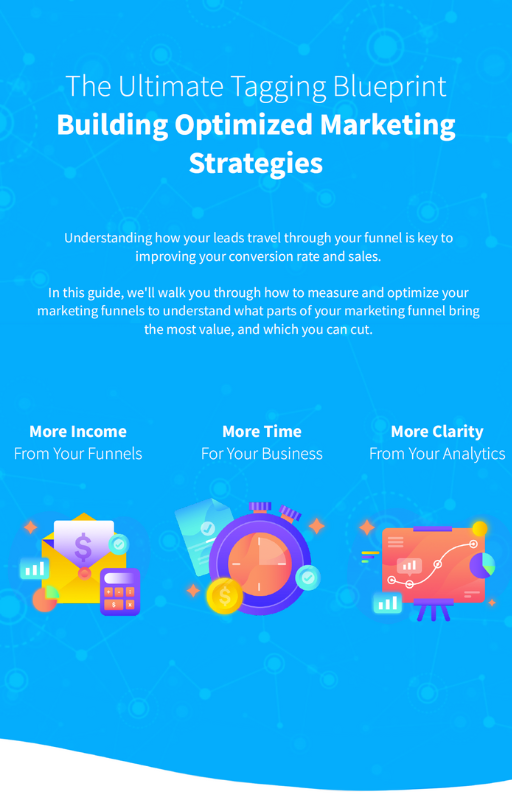 Finally, a top-down guide that walks you through every step of setting up and optimizing your tags to increase sales and ROI.
Understanding how your leads travel through your funnel is key to improving your conversion rate and sales.
In this guide, we'll walk you through how to measure and optimize your marketing funnels to understand what parts of your marketing funnel bring the most value, and which you can cut.
You will discover how to get more income from your funnels, more time for your business and more clarity from your analytics.
My mission is to empower you. To help you transition from the chaos of tagging systems that resemble your Great Aunt Edna's scary closet, and instead move into a more scalable and leveraged model using a well thought our system and uniform plan. I'm here to tell you it's more than possible to increase your bottom line unsing tags with the system I will show you without spending a dime more on your marketing.
That's how you scale.
That's how you become far more profitable, while working LESS and having the time to actually work ON your business.
So grab a seat… get comfy… and get ready to completely transform your business for the better.

Ian Garoian
Customer Success Specialist
Ian is part of the customer success team here at SegMetrics. On the day-to-day, he helps customers get their integrations configured. He also maintains the SegMetrics knowledge base and other learning materials, such as this course. Ian, and Keith created this course to give new and existing users a better grasp at configuring their SegMetrics accounts the right way!